Three arrested over fatal East Dulwich 'funeral' shooting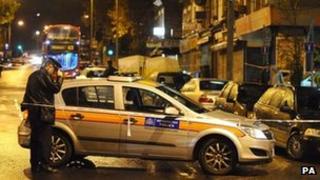 One person has been killed and another injured in a double shooting near a funeral in south London.
Police were called to the area near Camberwell Old Cemetery, in East Dulwich, shortly after 15:00 GMT.
London Ambulance Service (LAS) said one person died at the scene and another suffered bullet wounds.
Three males have been arrested in connection with the incident and remain in custody, the Metropolitan Police said.
Detectives are understood to be trying to establish whether the victims were among mourners attending a funeral nearby for a car crash victim.
'Gunshot wounds'
The Metropolitan Police said they were called to reports of a shooting at the junction of Forest Hill Road and Rockells Place.
A spokesman said: "One person was confirmed dead at the scene. A second person is also believed to have suffered gunshot wounds and has been taken to hospital."
A large section of Forest Hill Road has been cordoned off and a white tent has been put up to preserve the scene.
Officers have been scouring nearby Therapia Road searching bins, skips and beneath parked cars for evidence linked to the shooting.
LAS sent two cars, three ambulances, three motorcycles, the air ambulance and the hazardous area response team to the scene.
A spokesperson said a third person, who was suffering shock, was also taken to hospital.
One mourner, who did not want to be named, said about 500 people were at the funeral for 17-year-old Joel Morgan.
She said: "We were around the grave site and he was being lowered into the ground and there was a series of gunshots fired.
"People didn't know whether the noise was fireworks or not.
"We saw people on the other side of the fence running away.
"People close to the grave continued to put dirt into the ground because they couldn't really hear anything - the crowd was so thick.
"I think there were between three and six shots."