Mark Duggan shooting: Police 'aware of trouble risk'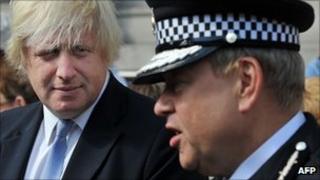 Senior police officers were aware that the shooting of Mark Duggan could spark trouble, BBC London has learned.
The Metropolitan Police has previously said they were taken by surprise when violence erupted in Tottenham, north London, in August.
But BBC London now say the police, in the preceding 48-hours, had been preparing for possible ramifications from the shooting.
The force said what the police did and did not anticipate and what officers were confronted by, were important questions to answer.
In the wake of the riots, the then Acting Commissioner Tim Godwin said that with hindsight more officers would have been deployed on the streets after the shooting of Mark Duggan on 4 August.
"The number of sites of disorder was something we hadn't experienced in the city before - and that did take us by surprise," he said.
But community leaders said they had warned the police there was heightened tension.
'Possible reprisals'
Ken Hinds, Haringey Community Adviser, said: "We made it quite clear that you could have another 1985-style Broadwater Farm Estate riot if things weren't handled sensitively and with urgency and with decency."
It is understood that on the night of the shooting and on the following day and night, London Fire Brigade was told not to answer 999 calls to the Broadwater Farm Estate without a police escort.
As Duggan had previously lived on the estate, police were worried about tensions and possible reprisals.
Sharon Grant, Haringey Community Panel, said: "If that's the case it would give a lie to the police's story to date that they were surprised by what happened.
"If they were aware enough to give that sort of instruction to the emergency services then they ought to have been aware enough to have been ready for what happened."
Brian Paddick, Liberal Democrat mayoral candidate, said: "The police on the one hand say they weren't expecting trouble, they were caught on the hop, and yet they were warning the fire brigade and the ambulance crews not to go on to Broadwater Farm without a police escort.
"That clearly indicates tension was rising and they were expecting trouble."
Views reflected
The Met said it could not comment on many issues until an official inquiry into the Mark Duggan shooting was complete.
In a statement it said: "There are a number of reviews, both independent and police, that are collating the circumstances leading up to the disorder.
"It is important that the panel are able to consider all of the evidence put before them before they reach their conclusions."
A government-appointed panel set up to analyse the riots held a meeting in Tottenham on Thursday night.
Chairman of the Independent Riots Panel, Darra Singh, said: "Our job as a panel is to reflect the views of people, of communities, victims and those affected, back to the prime minister, the deputy prime minister and the official opposition."