Disciplined surgeon working in Guy's and St Thomas'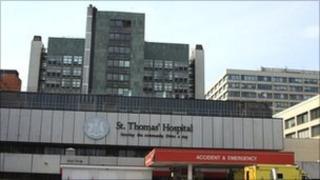 A surgeon disciplined for carrying out operations "beyond his competency" and not disclosing "restrictions" placed on him is working in a London hospital.
Gideon Lauffer was suspended for six months by the General Medical Council after it found him guilty of serious professional misconduct and dishonesty.
The cases happened when he was at King George Hospital, Ilford, in 2007-08.
Guy's and St Thomas' Hospital said the doctor is working in a non-surgical role and is under "close supervision".
The allegations relate to incidents in 2007 and 2008 when Mr Lauffer worked as a consultant general surgeon at Barking, Havering and Redbridge Hospitals NHS Trust and was in private practice at Spire Roding Hospital and the Spire Hartswood Hospital.
An independent panel found he "acted outside area of competency" when he performed laparoscopic incisional hernia repair in September 2007 on a patient, known as AS, as he had no formal training for it.
He also performed a surgery in March 2007 which later led to damage to the patient's testicle, but he "did not acknowledge damage was as a result of surgery" to the patient.
Soon after the case of AS, the NHS Trust informed him that he could no longer perform some procedures, including laparoscopies and varicose vein surgery.
But he "failed to inform" the two private hospitals about the restrictions and in March 2008 carried out a part of a laparoscopy on a patient, unsupervised, and "failed to obtain informed consent".
The Panel Chair said: "The Panel is satisfied that your actions and omissions amount to misconduct and that such misconduct is serious.
"The Panel has already determined that your fitness to practise is impaired by reason of your misconduct."
Suspending him for six months the GMC recommended to the independent panel that he be struck off.
GMC 'role undermined'
But earlier this year a review placed conditions on his registration, including supervision.
The GMC's chief executive, Niall Dickson, said: "Our role is to protect patients. This is undermined when panels do not take the action we believe is needed to do this.
"We are pressing for the right of appeal of these decisions as part of our ongoing reforms."
Guy's and St Thomas' NHS Foundation Trust said Mr Lauffer was employed as a clinical fellow in the emergency medicine department.
"He has returned to work to retrain in a non-surgical specialty and works as a junior doctor under the close supervision of consultant staff.
"He was employed by the trust with full knowledge of the conditions placed on his practice by the GMC and remains in close contact with the GMC, as do the staff supervising his retraining."