London schools to receive £260m for more pupil places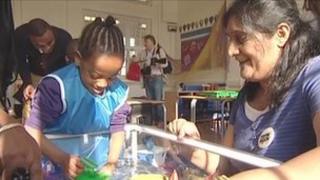 London schools are to share more than half of an England-wide allocation of £500m government funds to tackle a shortfall in pupil places.
Schools in the capital received £260m of a £500m Department for Education funding package.
The amount of money to be allocated was calculated using figures provided by local authorities.
A Department for Education spokeswoman said: "Funding is given based on greatest need."
"London has some of the greatest need for extra school spaces in the country due to population growth," she said.
The London boroughs of Redbridge, Waltham Forest, Brent and Barking and Dagenham will receive the greatest amounts.
The funding came from savings made after the government halted school capital projects under the previous government's Building Schools for the Future (BSF) programme.
Michael Gove urged local authorities to target resources at managing shortfalls in pupils places wherever they were most needed, taking into account the views of parents.
He said it is "especially pertinent" following data released last week by the Office for National Statistics showing that previous projections for population growth were underestimated.
Mr Gove has also announced that he will fund any proven contractual liabilities of local authorities who brought a judicial review against his decision to axe BSF, which included the east London councils of Waltham Forest and Newham.
However, he has ruled out funding any other outstanding capital commitments scheduled under BSF.