Armed forces join poppy collection in London stations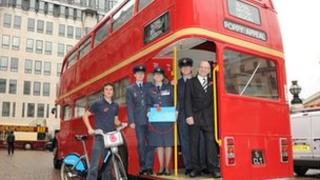 Servicemen and women will be among the 1,000 collectors in London seeking to raise £500,000 in one day for the Royal British Legion's Poppy Appeal.
The collectors are targeting 60 Tube stations to collect donations from commuters.
RAF personnel will be collecting at Covent Garden while a Gurkha regiment will be raising money at Canary Wharf.
The third London Poppy Day will contribute to the 2011 Poppy Appeal's fundraising target of £40m.
This year's appeal will help to fund the Battle Back Centre, a national centre of excellence for disability sports, and four centres that support sick or injured service personnel.
The Royal Navy vessel HMS Mersey has docked at Canary Wharf with all its sailors joining the Canary Wharf collecting team.
British collectors will be supported by US Navy personnel who will collect at Bond Street and Marble Arch.
Transport for London is allowing every collector in uniform to travel for free on public transport, while £1 from every Barclays Cycle Hire journey will be donated to the cause.
Benjamin Hancock, who co-ordinates London Poppy Day on behalf of The Royal British Legion, said the target was challenging, but achievable:
"Last year we set a target of £150,000 and ended up collecting £225,000.
"This year we've set the bar even higher and are determined to hit the half a million pound mark."