Bexley kebab shop murder: BBC man Paul Gunner 'missed'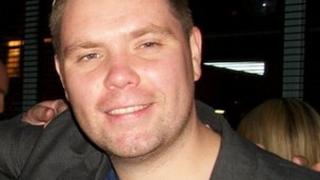 A worker on the BBC's Strictly Come Dancing, who was fatally punched outside a kebab shop in south-east London, will be "sorely missed by a lot of people", his older brother has said.
Paul Gunner was "a top bloke" whose death had left his family "totally devastated", said Ray Gunner.
He was attacked by three men in Bourne Road, Bexley, last month during a night out to mark his 32nd birthday.
Three men have been arrested and police are trying to find more witnesses.
The suspects - aged 25, 31 and 32 - were bailed until later this month.
Scotland Yard said an assault which took place in the same location about 10 minutes before the murder may have been carried out by the men who killed Mr Gunner.
Family 'in shock'
A woman was pelted with chips outside the shop and another man was punched in the face when he intervened.
Neither the man nor the woman has yet come forward and police said they were anxious to speak to them.
"I cannot stress how important it is for anyone who was in the area that night and who may have witnessed the assault on Paul or the earlier incident to contact the police," said Det Insp Rick Murphy of the Metropolitan Police.
"I would like to reassure anyone concerned about coming forward that they will be treated with the utmost sensitivity."
Mr Gunner was an electrician and lighting technician on Strictly Come Dancing.
Asked how the killing, in the early hours of 16 October, had affected the family, Ray Gunner said: "Everybody is in shock that Paul has been taken from us."
He said he would miss "the banter" with his brother, who worked for the same electrical and lighting company as him.
He was not sure if he would remain with the firm as it was "hard being somewhere where I've got too many memories of us together", he added.
"He was a very nice brother.
"I think a lot of people are going to miss him."