BBC and Alexandra Palace celebrate 75 years of television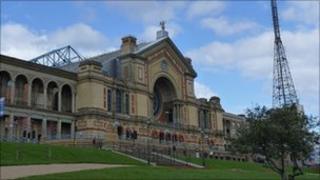 An event to celebrate 75 years since the BBC's first regular high-definition television broadcast is to be held at the venue where it took place.
The broadcast was made from Alexandra Palace in north London on 2 November, 1936.
A series of free activities will be staged at the venue - nicknamed Ally Pally - on Saturday and Sunday to mark the anniversary.
Visitors will be able to tour studios that were leased by the BBC until 1981.
The term high-definition was used in the 1930s to compare with earlier systems that were based on mechanical systems of as few as 30 lines of resolution.
It has once again been adopted since the 1990s to describe a new generation of televisions that have resolution substantially higher than that of standard-definition television.
'Momentous' anniversary
Alexandra Palace became the BBC's primary base for television broadcasts until the 1950s.
However, during the Second World War, television equipment was commandeered for defence purposes and the Alexandra Palace transmitter was re-tuned to defend London from Nazi bombers.
Over the years landmark programmes such as Muffin the Mule, The Grove Family and Open University content were made there.
Alexandra Park & Palace Trust chairman Matt Cooke said: "The BBC's place in the history of Alexandra Palace was sealed when the first public service broadcast in the world was made from the building in 1936."
Head of BBC History, Robert Seatter, said: "On this momentous 75th anniversary, we are delighted to be working with Alexandra Palace to open up these unique studios where television really began."
London Mayor Boris Johnson said: "The 75th anniversary of the world's first television broadcast service by the BBC from Alexandra Palace is a fantastic opportunity to reflect on London's role as a pioneer and innovator."