Olympics police future uncertain, warns Met official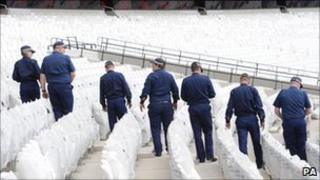 Metropolitan Police staff recruited for the Olympics face an uncertain future in the wake of Government cuts, a Scotland Yard official has said.
Extra officers and support staff are being taken on in addition to help from other forces as part of the major security effort.
The staffing plan was drawn up before the Government's spending review.
Metropolitan Police Director of Resources Anne McMeel said she was concerned about the impact of cuts.
The Met had hoped the extra staff would be absorbed into the force as part of natural expansion after the Games.
Security test
But addressing the London Assembly at City Hall, Ms McMeel said: "Over the last two years the numbers have been shrunken and that makes redeploying into the organisation a tougher call."
She added that there were "ongoing talks with the Home Office" to decide what could be done.
A Home Office spokesman said: "Safety and security funding for the Games has been protected with the vast majority going to the police. We are confident that the police will have the resources to deliver a safe and secure Games."
The Olympics is set to be one of the biggest security tests in the history of the Metropolitan Police.
A £600m budget has been set aside to police the event which comes as the axe starts to fall on 34,000 police jobs in England and Wales.
About 16,200 police officers will be axed by 2015 amid warnings that crime could rise by 3%, Her Majesty's Inspectorate of Constabulary (HMIC) has said.
Officer numbers will eventually sink to their lowest level since 2001/2002 as forces face their biggest financial challenge in a generation.