Driverless Tube trains: Is this the end for drivers?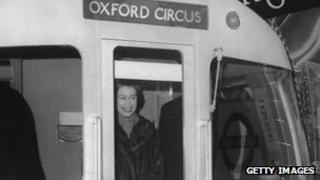 Driverless trains and ticketless technology will again be on the agenda as London Underground's (LU) 'Operational Vision' is due to be put in front of the Transport for London (TfL) board on Wednesday.
Here's the paper itself (.pdf).
Its sub heading is 'Technology Enables Change' and it very broadly outlines what last week's leaked report described on the direction LU is heading. It's called 'emerging thinking'.
It does admit cabless trains will probably be on the network by 2020.
The report says: "Given the technology available now, it is very unlikely that, after the procurement of the trains for the Sub Surface Lines, LU will ever again buy a fleet of passenger trains with conventional drivers' cabs.
"This means that the new generation of Tube train being developed for the Bakerloo, Piccadilly and Central lines, to be introduced in the 2020s, could dramatically change the train staff operating model."
Union fears
It also says: "For train staff who currently drive a train, LU will make a commitment to them that they can continue to do so for the rest of their career. In return, train drivers will need to show greater levels of flexibility to support long-term service reliability improvement."
The report also says the next generation of employees supporting the train service could be much more like the train captains on the Docklands Light Railway (DLR), rather than those seen traditionally on LU.
Crucially, from an employee's point of view, it says: "The operational vision outlined above could mean that there will be changes to LU staff numbers in the future."
Last week, we were told the leaked report that outlined 1,500 job losses was not LU policy.
LU maintains it isn't in terms of the detail but that the broad themes are being looked at. Of course, it maybe official policy in the future.
What it means is the unions' worst fears look likely to materialise: automated trains, bankcard ticketing and job losses.
All of which spell trouble for the commuter in terms of industrial relations and strikes.
Is it an indication of the state of industrial relations that the unions are not involved (yet) in this process?
Update:
The RMT Union has told me: "Driverless trains are a lethal and unworkable option for London Underground and any move in that direction will meet the fiercest union resistance."