Bishop of Buckingham attacks St Paul's Cathedral closure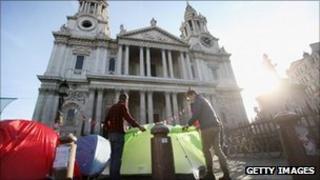 A bishop has accused St Paul's Cathedral of a "hysterical over-reaction" to the continuing protest at the site.
The Bishop of Buckingham, Alan Wilson, said closing the church was a mistake.
Clergy reopened the cathedral on Friday, after citing health and safety reasons for its closure because of the Occupy London camp outside.
St Paul's Cathedral and the City of London Corporation are now taking legal action to evict the protesters.
Two senior figures there have stepped down in protest at the cathedral's reaction.
The cathedral has not commented on Bishop Wilson's claims on his internet blog, where he wrote: "I have no idea why St Paul's shut up shop last week.
"The appearance of a handful of cheap tents 50 yards from the front door would be possible to manage, one would think," he continued.
"Can [the St Paul's clergy] redeem their initial hysterical over-reaction?
"Do they want to draw all voices into a vital public debate, or will they clear the site as soon as possible, probably in the middle of the night?"
A statement on the cathedral's website reads: "The chapter has previously asked the encampment to leave the cathedral precinct in peace.
"This has not yet happened and so, following the advice of our lawyers, legal action has regrettably become necessary.
"At each step of the legal process the chapter will continue to entreat the protesters to agree to a peaceful solution and, if an injunction is granted, will then be able to discuss with the protesters how to reach this solution.
"Theirs is a message that the chapter has both heard and shares and looks forward to engaging with the protesters to identify how the message may continue to be debated at St Paul's and acted upon."