London 2012: Paralympian Ade Adepitan has wheelchair stolen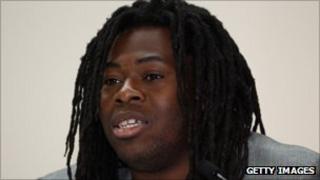 Thieves have stolen a car branded with the London Olympics logo, which contained a wheelchair belonging to a Paralympic basketball player.
The white BMW X5 car was taken during a break-in at Merton Avenue, Chiswick, west London, early on 22 October.
The wheelchair, which is owned by Ade Adepitan, is metallic blue and has blue tyres with white spokes, police said.
The vehicle also held a basketball with the name "Ade" on it and a pair of purple-and-orange crutches.
Adepitan, 38, was a member of Great Britain's team at the Paralympics in Athens in 2004 and is also known for his work as a TV presenter.
On his Twitter account last Sunday, he said: "Just getting over a stressful weekend had my car stolen with my BBall wheelchair in the back and tennis rackets as well!
Scotland Yard is searching for two men who smashed the car's window before driving it away at about 03:40 BST last Saturday.