Charlie Gilmour loses appeal against fees demo sentence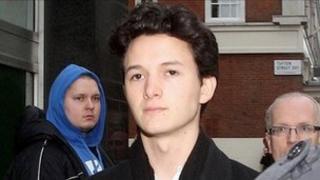 Charlie Gilmour, the son of Pink Floyd's David Gilmour, has lost an appeal against his sentence for violent disorder during a student fees protest.
Gilmour, of Billingshurst, West Sussex, who swung from a Union flag on the Cenotaph during the demo last December, was jailed for 16 months in July.
The Cambridge University student was found to have attacked a shop in Oxford Street and a car in the royal convoy.
Judges at the Court of Appeal said his jail term was not "unduly harsh".
Lord Justice Hughes said the court was unable to say the sentence was "arguably either manifestly excessive or wrong in principle".
The 21-year-old history student joined thousands of protesters in Trafalgar Square and Parliament Square, on 9 December last year, to demonstrate against an increase in university fees.
'Serious mob disorder'
Gilmour entered a guilty plea during a hearing at Kingston-upon-Thames Crown Court in May.
Appeal Court judge Lord Justice Hughes said Gilmour's offences were committed "in the course of serious disorder which occurred in the later stages of what had begun as a generally peaceful demonstration".
There was, he said, "serious mob disorder".
The judge said: "The defendant admitted violent disorder. He was unmistakably captured on CCTV footage in Oxford Street joining in the attack on the windows of a shop."
He said it was the Crown's case was that Gilmour had also taken part in the attack on a royal convoy a little earlier.
He was found by the judge at Kingston-upon-Thames Crown Court to have thrown a rubbish bin at a vehicle that was part of a convoy carrying the Prince of Wales and Duchess of Cornwall.
'Inflammatory context'
With respect to this matter, the Court of Appeal ruled that the judge was "entitled to come to the conclusion which he did".
Lord Justice Hughes Gilmour was "plainly a talented man who was usually of "generally of gentle and peaceable disposition".
He said the judge at Kingston "rightly treated what the defendant did as entirely out of character".
Lord Justice Hughes said: "It is an unavoidable feature of mass disorder that each individual act, whatever might be its character taken on its own, inflames and encourages others to behave similarly, and that the harm done to the public stems from the combined effect of what is done en masse.
"We do not believe that violence in this context and of the kind displayed by this defendant can normally be met by other than significant sentences of immediate custody, even for those of otherwise good character."
He said the sentence passed by the judge "correctly took account both of the defendant's serious and dangerous acts in this inflammatory context".
Lord Justice Hughes said the sentence was a "penalty which properly met the facts of this case".