Metal thieves target Twickenham war memorial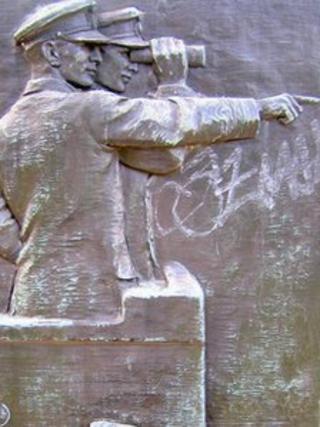 A bronze plaque has been stolen from a war memorial in south-west London.
Metal thieves stole the 2ft (0.6m) by 3ft (0.9m) metal panel from Radnor Gardens, Twickenham, on or around 20 October.
The bronze depicts a naval scene, with two officers surveying the horizon while a rating works on the lower deck.
Lord True, leader of Richmond Council, has appealed for the plaque to be returned in time for the annual service of remembrance on 13 November.
He said: "It is appalling that thieves have damaged the war memorial so close to Remembrance Sunday.
"To steal from a memorial commemorating those who served and died in war on behalf of us all is contemptible.
"Anyone who knows who is responsible, and has any feeling for those in our armed forces still putting their lives on the line, should turn these people in."
The council said it would try to replace the panel as quickly as possible but it could not be done before mid-November.
Temporary CCTV cameras have since been installed at the site.