Two Metropolitan Police assistant commissioners appointed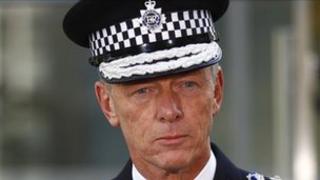 The Metropolitan Police Authority (MPA) has appointed two new assistant commissioners at Scotland Yard.
Surrey Chief Constable Mark Rowley and Simon Byrne, Deputy Chief Constable at Greater Manchester Police, will take on the role for five years.
Met Police Commissioner Bernard Hogan-Howe said they would bring huge levels of operational experience.
They join Britain's largest police force which has more than 50,000 staff, including 32,000 officers.
They will be paid an annual starting salary of £181,455.
Mr Hogan-Howe said: "I am really pleased to be able to welcome them to the Met and know that their appointment will help the Met deliver our aim of world-class policing that Londoners can be proud of."
Kit Malthouse, chair of the MPA, said: "Both Mark and Simon excelled in interview and impressed the panel with their knowledge and experience.
"As assistant commissioners they will be expected to play a significant role within the Met, ensuring its officers make London a safer city for us all."
Interviews were conducted by a panel of MPA members, with the commissioner, Her Majesty's Inspector of Constabulary Sir Denis O'Connor and Catherine Crawford, MPA chief executive, acting as advisers to the panel.