Sacked Met Police PC 'should have helped 999 callers'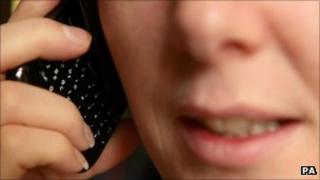 A police officer sacked for mishandling 999 calls failed to send help to a rape victim and a man who feared for his family's lives, the police watchdog has revealed.
The Independent Police Complaints Commission (IPCC) released examples of the behaviour of the Metropolitan Police emergency phone operator after he was sacked for gross misconduct.
The IPCC said that on one occasion a woman dialled 999 to report that her friend had been raped and was told by the operator to take her to a local police station, which she did 90 minutes later.
The correct response should have been to send a police car to the victim immediately.
The Met said the 58-year-old PC, who was based at Bow Central Command Centre in east London, did not provide a police response to 141 cases, including rapes, assaults and domestic abuse.
'Significant performance issues'
The IPCC investigation found he was rude and condescending to a woman who had dialled 999 to report that she had been attacked by her husband who was trying to take her baby.
The PC advised the woman to report the incident to her local police station when in fact a police car should have been sent to her immediately.
Of about 3,000 emergency calls he handled in a three-month period in 2009, 141 had "significant performance issues" and 19 amounted to gross misconduct, the police watchdog found.
In another example provided by the IPCC, a woman called to say she felt suicidal and wanted to be "sectioned", or taken into secure psychiatric care.
It was apparent from a recording of the call that the woman was outside and was therefore at risk.
Changed phone numbers
However, the call handler mistook her for somebody he had spoken to earlier in the day, then told her to visit a police station.
The appropriate response would have been to send a police car to her.
The sacked PC also got into an argument with a driver who had dialled 999 to say a car had gone through a red light and driven into his car, leaving the road blocked.
The officer again took no action. It was one of seven occasions where he amended a caller's number in his records in an apparent attempt to cover up the exchange.
On another occasion, a man who had earlier reported a brick being thrown through his window rang back to say that an apparently armed man was sitting in a car outside his home and that he feared for the lives of his family.
The caller became so frustrated with the police operator that he terminated the call. Armed police should have been sent in response but no action was taken.
The IPCC said its investigation found no evidence the police call handler's behaviour was motivated by racism or hostility to women but IPCC commissioner for London, Deborah Glass, said he behaved in "an appalling and callous way" and was rightly sacked.