Westminster Council targets own CCTV 'spy van'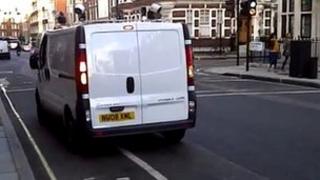 The tables were turned on a council CCTV "spy van" when a member of the public spotted it parking illegally, landing the driver a stiff reprimand.
Stuart Bonar photographed the van parked on a cycle lane and single yellow line in Marylebone.
Mr Bonar, a Liberal Democrat campaigner from Marylebone, said: "This is a victory for people power."
The central London council stopped using the driver after the "unacceptable" breach.
The vans uses cameras to scan number-plates of cars looking for vehicles with outstanding warrants on them.
Mr Bonar said: "Personally I don't like these creepy, East German-style spy vans.
"But if we are to have them then the least they can do is obey the law."
Councillor Lee Rowley, head of parking at the Conservative-run council, said: "I'd like to thank the person who brought this to our attention.
"The parking in this picture is absolutely unacceptable.
"As such, the contractor has been reprimanded and the particular driver of the vehicle will no longer work in Westminster going forward."
The council has faced a storm of protest after recently voting to charge for West End parking on Sundays and evenings.