Occupy London: Traders' fears over St Paul's demo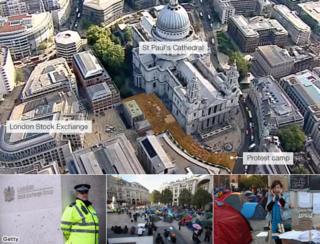 As many protesters enjoyed a lie-in in their tents in the shadow of St Paul's Cathedral, suit-clad office-goers walked past, some casting glances at the unusual tent city.
While some passers-by looked on with amusement, others looked somewhat annoyed and refused to give their opinion about the site.
Private security guards and Metropolitan Police officers have set up metal barricades, blocking access to Paternoster Square, which houses the London Stock Exchange.
Signs warn people that the area is "private property" and those entering are required to show their work ID cards or tell the guards where they want to go.
The blockade is presumably to prevent activists from the Occupy London Stock Exchange movement from surrounding the building, but the barricades have resulted in many office-goers having to take a detour.
Shops surrounding the square were also counting the costs of the six-day protest and the barricades.
Lunch reductions
Corina Cimposa, manager for Paul bakery, at St Paul's Churchyard, said sales had fallen and regular customers were just "not coming".
The restricted access to the square meant staff were left with no option but to use fire exits to take out rubbish.
"We roughly lose £500 a day, if not more, and hundreds of customers throughout the day.
"Even tourists avoid coming to the area with what is happening. For the first two days it was also hard for them [delivery trucks] to get access, so I had to change the pattern of ordering," she said.
Several restaurants in Paternoster Square have put up "open as usual" signs, with some offering 50% discount on lunches since the camp was set up on Saturday.
Mike Voller, who works nearby, and two of his colleagues did not want to miss the offer.
"Regardless of my political view I am enjoying 50% off lunches, for the past three days in Paternoster Square. It's because Paternoster Square is closed," he added.
One of the protest organisers, Ronan McNern, 36, of south London, said the camp had grown from 70 tents to more than 200. The camp now has a kitchen, generators and wi-fi connection.
But the growing numbers have led St Paul's Cathedral to worry the protest was posing "a risk to the life of the cathedral" as tourists avoided the area.
'Not anti-capitalist'
Mr McNern said they were discussing logistical issues with the cathedral and have moved tents to clear the approach to the landmark.
"They [the cathedral] obviously are unfunded so the revenue that comes in from tourists visiting is essential which we understand and we do not want to effect that negatively," he said.
"In the assemblies that we hold we are making sure to time things so that they don't happen at the same time as church services, so that any noise here is not impacting them in there."
Portable toilets were being set up and tents would also be organised into groups of four following advice from fire safety officials, organisers said.
But the big banner declaring "Capitalism is Crisis" is likely to be taken down as the camp was "a lot broader than an anti-capitalist stance", Mr McNern said.
Activists have also set up a Starbooks library, located opposite the Starbucks shop, with books donated by the public.
Rob Miller, 45, from Manchester, who set it up, said: "Well the people need entertainment as well."
The buoyant mood of the camp was reflected in the choice of outfits of the protesters - one wore a clown nose and hat while another sat in his tent sipping champagne.
Year 13 student Bruno Cullinan, 17, of Camden, north London, was one of many temporary campers.
He spent the night at the camp with his older brother, before heading to school, but he plans to stay longer during the half-term holidays next week.
Bruno said: "I came to the original demonstration on Saturday but then I had to go home because I had to go to school.
"My teachers are very supportive, but they don't particularly like me being here on school nights but they say as long as it does not interfere with work it's my choice."