Give An Hour: Opening up a new world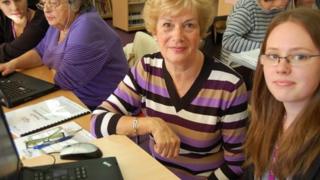 In a hi-tech city like London you could be forgiven for thinking everyone is online, but statistics show this is not the case.
Despite almost 90% of Londoners having used the internet at some point in their lives, 43% of those who have not are over 55 and this can lead to isolation and frustration.
Hairdresser Jean Groves, 67, from Southgate, did not discover she was dyslexic until she was an adult and says it has had a huge impact on her life.
She said: "I knew there was something wrong with me but I didn't know what it was. I never read a book until I was 30 or even own a chequebook."
With the clocks going back at the end of October, we will all have an extra hour in our days.
The Give An Hour campaign is trying to encourage people to spend that hour showing someone how to use the internet for the first time.
Pupils at St Anne's Catholic High School for Girls, in Enfield, have been giving an hour of their week, every week, to help local people develop their online skills.
Ms Groves said: "I wanted to learn to use a computer because I've never used one.
"I went to grammar school but I think if I had gone to a comprehensive school I would at least have learned how to use a typewriter.
"You use a different part of your brain when you use a keyboard so it's helping me. Using the internet is opening up a whole new world to me."
Betty Canon, 77, recently bought a computer but found it hard to learn how to use the web effectively, especially since becoming interested in genealogy.
"I used to teach so I appreciate what the school is trying to do for us. I'll be coming for more classes. I need as many as they can give me.
"I've helped a friend of mine who was abandoned as a baby. She wanted to know if her mother was dead and, if she was, she wanted to trace her brothers and she's been able to do that.
"This scheme is fantastic."
Key Stage 5 achievement leader at St Anne's, Bronwyn Mitchell, said the scheme had been a big success at the school.
"The pupils volunteer to help in their study leave time. We're a Catholic school so we like them to give something back and we have been running this programme successfully for five years for Age UK."
You can donate your 'free' hour when the clocks go back on 30 October to help inspire someone you know to get online.
Go to www.bbc.co.uk/giveanhour to find out more about how to give someone you know your time.
Figures courtesy of the Office for National Statistics.