Tube train safety checks change sparks union row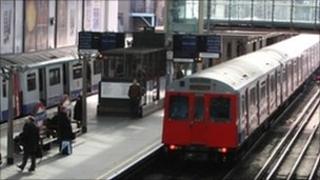 A row has broken out over planned changes to safety checks of "key fail-safe equipment" on the Tube network.
The Rail, Maritime and Transport union said reducing the frequency of tripcock testing would be "dicing with death".
The tripcock automatically prevents trains passing red signals.
London Underground (LU) said it was considering what the right level of maintenance was for the new fleet of trains which have inbuilt technology to warn of problems with the tripcock.
A full fleet of new trains will be in operation on the District, Circle, Hammersmith & City and Metropolitan lines by 2016.
The Rail, Maritime and Transport union (RMT) claims the checks will be reduced to the equivalent of an average running period of 60 days.
'Cuts-lead move'
Currently, depending on the fleet, checks are carried out from every two days upwards.
RMT General Secretary Bob Crow said: "This is a cuts-led move that follows hacking back of safety inspections on escalators and out on the tracks and comes at a time when maintenance cuts are already causing havoc on a daily basis with signal failures and breakdowns commonplace.
"This move on the tripcocks inspections ratchets up the safety concerns of RMT and is literally dicing with death."
But LU's Phil Hufton said no decision had been made on changes to the frequency of tripcock maintenance on Underground trains.
He said: "It is absolutely correct that we are working with Bombardier to look at what the right level of maintenance is for the brand new, state-of-the-art trains that are being introduced.
"The technology on board these new trains allows us to download information that will tell us well in advance if any part of the train needs attention."
He said this reduces the need to carry out "time-consuming and outdated maintenance activities which are no longer the industry norm".
The RMT said it was seeking an emergency meeting with Tube bosses on the matter.