Brent Council library closures campaign appeal granted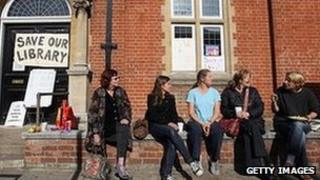 Campaigners who are trying to save six libraries in north-west London have been told they can appeal against a ruling that the closures are legal.
On Thursday the High Court said Brent Council could go ahead with its plans to shut the buildings to save money.
A judge rejected users' claims that the authority failed to properly assess the impact of shutting the facilities.
But the Court of Appeal has now granted protesters leave to appeal and is to hear arguments for a stay of execution.
The case will be heard on Wednesday.
The Labour-run council had originally wanted to close the libraries in Kensal Rise, Barham Park, Tokyngton, Preston, Cricklewood and Neasden by September.
It is trying to save £100m over the next three years.
Constant vigil
Brent's lawyers said the plans were "rational" and "made with great care", and were "based on a full appreciation of the obligation to act within the law".
But the campaigners' QC, Helen Mountfield, argued the council's approach was "fundamentally flawed and unlawful".
She said Brent had neither complied with equality legislation, nor properly consulted the local community, but these claims were rejected by the judge.
Local people have been using Kensal Rise Library as a focal point for their protests since the ruling.
The doors of the library were padlocked hours after the High Court's judgment.
Campaigners said they intended to maintain a presence outside the building 24 hours a day for the foreseeable future.
At the weekend residents placed boxes of donated books on the pavement and were lending these to local people for free.