London bookmakers: Mayor calls for planning controls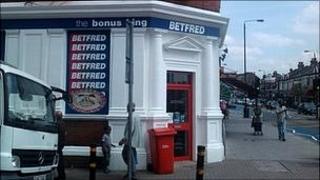 London Mayor Boris Johnson has called for a change in national planning law to curb the spread of betting shops.
Operators should have to obtain planning permission to trade, he said.
They can open in vacant banks and pubs without planning consent, which the mayor said had led to clusters of betting shops in areas such as Hackney.
Green Party assembly member Darren Johnson said the mayor had "changed his mind" about the issue, having "dodged" it when the Greens raised it last year.
He said he had opted against taking action when he replied to a question from the Greens about the subject in May 2010.
Communities 'crying out'
"I'm glad the mayor has changed his mind about this," he said.
"Lots of communities are crying out for help in stopping their high streets being taken over by bookies and takeaways."
In a letter to Communities Secretary Eric Pickles, the mayor said there were 64 betting shops in Hackney, with eight in Mare Street alone.
This was despite the Gambling Prevalence Survey suggesting that fewer than 10% of Londoners used them, he said.
Having so many bookies so close together could negatively affect the vitality and viability of town centres and the quality of life of those living nearby, he added.
"I recognise that betting shops have an important role to play in our culture and provide entertainment to many people," the mayor said.
"But there is a balance to be struck between having betting shops as a part of the high street retail mix and the negative impact they can have on shoppers and visitors when they start to dominate."
The Association of British Bookmakers' spokesman, Tom Kenny, said it was a myth that there had been a dramatic increase in the number of betting shops.
But he acknowleged that planning freedoms were bringing bookmakers to the high streets from the "back street locations of old".
He added that both the Gambling Act and the Planning Act already offered local residents and business owners opportunities to object to new betting shops.