Tottenham Hotspur ends 2012 Olympic Stadium legal bid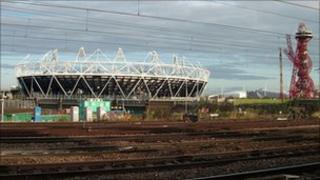 Tottenham Hotspur has withdrawn its bid for a judicial review into the handing of the Olympic Stadium to West Ham, the government has said.
The move follows the collapse of the deal to award the stadium to West Ham after the London 2012 Games.
The Olympic Park Legacy Company (OPLC) blamed the collapse on delays caused by the legal dispute with Tottenham.
The Department for Culture, Media and Sport (DCMS) confirmed the latest move. Tottenham is yet to comment.
It is thought a legal hearing into the matter scheduled for Tuesday will not now take place.
A DCMS spokeswoman said: "We have come to an agreement with Tottenham Hotspur, where all parties will bear their own legal costs."
The OPLC, government and mayor of London currently agree the stadium will remain in public ownership.
West Ham has said it will bid to be the stadium tenant.
The OPLC has been asked to start a new process to secure tenants for the stadium and any interested bidders will have to submit proposals by January.
A fund of £35m has been set aside from public money to convert the stadium, which will have an 80,000-capacity during the Games, to a 60,000-seater venue afterwards.
Leyton Orient has also been challenging the award of the stadium in the courts. It has also withdrawn its bid for judicial review.
'Whole process flawed'
The club is afraid West Ham moving to the stadium would affect numbers attending matches at its nearby ground.
Chairman Barry Hearn said on Monday: "The whole process has been flawed. The last four or five years has been largely wasted and we have to go back to the beginning.
"If the OPLC try to fast track the whole process they will be challenged again.
"Someone has to convince me how Leyton Orient, with its history in east London, can keep in existence."