Rewards for 'green' journeys in London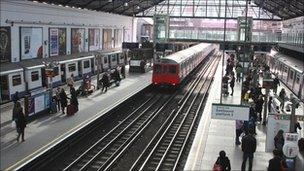 People are to be rewarded with offers and discounts for making journeys in London on foot or by bicycle.
The scheme aims to get more people walking and cycling in the capital to improve their health, cut pollution and ease congestion.
It will use smartphone technology to record the relevant journeys and award points which will be redeemable against a range of offers and discounts.
The initiative, which is free to join, will be launched in the spring.
Recyclebank and Transport for London (TfL), which are behind the scheme, said it will be tested out from the end of the year.
It mirrors Recyclebank's scheme to encourage household recycling, which is operated by several UK councils.
Recyclebank said it was confident the plans would encourage more people to get walking and cycling.
It also urged local and national businesses to contact them, adding that the successful recruitment of new brand and retail reward partners was central to the scheme's success.
Ben Plowden, from TfL, said: "Walking and cycling are the healthiest and greenest ways to travel and already on the increase in the capital but we want to encourage even more people to take it up and consider it for their everyday journeys."
Related Internet Links
The BBC is not responsible for the content of external sites.