First Out Cafe calls last orders on London's gay scene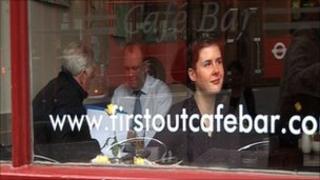 Central London's oldest gay cafe is set to close in a fortnight.
First Out Cafe was the city's first daytime gay venue, offering an alternative to the club scene, when it opened in 1986.
The business is one of a number to be affected by the upheaval caused by the development of the Crossrail network through the Tottenham Court Road area.
It hosts book groups and offers details of support over lesbian, gay, bisexual and transgender (LGBT) issues.
It began as an attempt to bring European cafe culture to London, giving the city's gay community the opportunity to socialise in an open environment.
Director Maria Tejada said it provided "a safe place for people to be themselves, without any fear".
"Lots of people say it was a haven," she said.
"It was a place where they felt totally relaxed. They felt welcome."
She said many people made friends or met their first partners there, and for others "it was part of their growing up".
Ms Tejada spoke of a number of people for whom the cafe provided support.
"You have a young person trying to come out, and you almost feel protective towards them. They feel they have someone who can understand them."
Cafe regular Ana Kazaroff, from Argentina, described it as "a terrible loss for the city".
"I personally don't think I will come to central London so often now, because other places around here are not so friendly.
"It's definitely a loss to the gay community."
The cafe will close on 29 October following the failure of lease negotiations and the disruption caused by Crossrail.
The train service, which will connect Berkshire with Essex and will run through central London, is currently being constructed and a large area around Tottenham Court Road station has been fenced off while work continues.