Floella Benjamin raises Notting Hill Carnival fears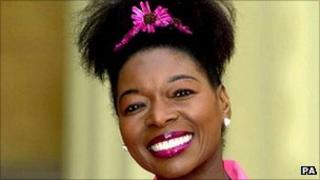 Former TV presenter and peer Floella Benjamin has raised fears about the future of the Notting Hill Carnival.
The west London event, which attracts more than a million people, has been hit by the resignation of organisers, disputes and a lack of funding.
Trinidad-born Baroness Benjamin, a Liberal Democrat peer, raised concerns at House of Lords question time.
Foreign Office minister Lord Howell of Guildford said he hoped the annual event would "continue and flourish".
'Vast tourism revenue'
Chris Boothman, who resigned as co-director of the carnival earlier this month, said the event had suffered from a shortage of funding and volunteers.
"We had nothing in terms of attracting the support we needed to make the event work," he said.
Baroness Benjamin, best known as a former host of the children's television show Play School, said: "October is black history month which reminds us of the many Afro-Caribbean war veterans who fought for king and country.
"They happily stayed on to help rebuild Britain after the war.
"Faced with terrible racism and rejection, they established the Notting Hill Carnival to celebrate their culture.
"It is now the largest carnival in Europe bringing in vast tourism revenue, but I believe the carnival is now in danger."
'Terrific show'
She asked Lord Howell: "Can you assure the House that the government will support, will encourage and will try and find ways to celebrate the contribution of Afro-Caribbean people to this country giving hope to black youngsters who often feel excluded from our history."
Lord Howell replied he was not briefed about the carnival's problems, but added: "I personally always thought it was a terrific show.
"It went wrong once or twice, but over the years there has been a considerable improvement in the way it has been managed and frankly my own personal view is long may it last and continue and flourish."
The Notting Hill Carnival Advisory Board said last week: "The carnival will carry on going in the future."