Dog ban for ex Metropolitan Police handler after deaths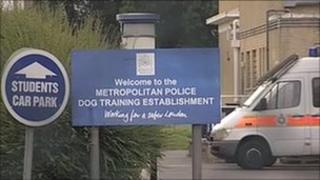 A former Metropolitan (Met) Police handler has been banned from owning or keeping dogs for three years after two dogs died in a car during hot weather.
Ian Craven admitted causing unnecessary suffering to the animals which were left outside the Met's Keston training centre, south-east London, in June.
Officers tried to save the Belgian Malinois and German Shepherd puppy but both died from heat exhaustion.
Craven, 50, from Staines, Surrey, was ordered to pay £3,240 in court costs.
An RSPCA statement said the dogs would have experienced substantial suffering and Craven, who resigned from the force, had been sentenced "accordingly".
Rising temperatures
On 26 June he left the four-year-old Belgian Malinois called Chay and a six-month-old German Shepherd called Tilly in his vehicle on one of the hottest days of the year.
Prosecutor Andrew Wiles said temperatures that day went from 16.1C (61F) at 7am to 22.2C (72F) by 11am, in the shade.
Craven arrived at about 7am with the dogs in a black plastic cage in the back and parked in front of the main building, in an area with no shade.
The court was told he had intended to kennel the dogs while spending the day at the Olympic Village in east London.
However, Craven forgot and when he realised several hours later he rang the centre to alert them.
Mr Wiles said: "He was pursued by his colleague, who said he appeared to be in a panic, he was pacing up and down, and heard to say 'I've killed my dogs'."
The court also heard in a previous incident in 2004, Craven had left a spaniel in a hot car at Keston that also died.
Mr Wiles said Craven underwent an internal investigation and pleaded guilty to offences detailed in the code of conduct for police officers and was reprimanded.
RSPCA chief inspector Dermot Murphy said: "Ian Craven, for the second time, left dogs in his vehicle on a hot day and forgot about them.
"This is an unacceptable action and one that is aggravated by the fact that he was a professional dog handler and trainer at the time."
Sentencing him at Westminster Magistrates' Court, District Judge Daphne Wickham said: "I accept it has brought your illustrious career as a sergeant to an end, it may have damaged your wife's career and your reputation with all those around you, and that in itself is a punishment."