Phone fraud: Five jailed for £4.5m premium line scam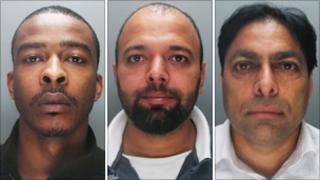 Five men have been jailed for their part in a £4.5m global premium phone line scam.
Southwark Crown Court heard they used stolen identities to obtain mobile phone Sim cards which were sent abroad.
Premium rate lines were acquired and the cards used to make multiple calls, generating "substantial" bills for O2.
The men, from London, Essex and Birmingham, were sentenced to between 18 months and three years after earlier admitting conspiracy to defraud.
Bill-paying customers
Mohammad Butt, 42, of Claremont Road, Forest Gate, east London, Abrar Arshad, 35, of Oastway, Rochford, Essex and Abiola Salami, 30, of Francis Road, Edgbaston, Birmingham, were jailed for three years each.
Ade James, 25, of Suffolk Street, Queensbury, Birmingham and Nikhil Jamsandekar, 33, of St George's Road, Forest Gate, east London, were sentenced to 18 months in prison.
Sentencing the men Judge Jeffrey Pegden QC said: "This is not a victimless crime, as inevitably such huge losses are passed on in part to honest bill-paying customers.
"This fraud was carried out by an international gang of conspirators.
"Simply stated, innocent, honest individuals' personal identities and details were dishonestly acquired along with countless mobile phone handsets and Sim cards which were dishonestly obtained."
The case involved 960 Sim cards, with innocent people whose identities had been stolen receiving huge bills.
The mobile phones were handed to the conspirators by corrupt delivery drivers.
But Judge Pegden warned there must have been others involved who are yet to be brought to justice.
He said: "There must have been a significant number of other conspirators, especially abroad.
"I accept none of you were at the pinnacle of the conspiracy or creator of it, but you all played significant parts enabling the conspiracy to continue and to be very, very successful."
Judge Pegden called Butt - a Pakistani national who ran a legitimate mobile phone business - an "important middle man".
'Willing assistants'
Sim cards found at his premises had cost O2 more than £55,000, the court heard.
Arshad was also a "middle man", while Salami was described as a "significant, important cog" to the forefront of the fraud.
James and Jamsandekar were "willing" assistants, the judge said.
Det Supt Bob Wishart, of the City of London Police, said: "This was a highly sophisticated and co-ordinated attack against the global telecoms industry by an alliance of a number of different organised crime groups that had learned to exploit technology.
"They co-operated in an illicit scheme to subvert previously legitimate premium rate services to defraud millions of pounds in a relatively short period of time before their arrest.
"This was a hugely complicated and unique investigation and I would like to pay particular credit to O2 for their assistance, resources and analytical expertise."