Westminster Council weekend West End parking charge delayed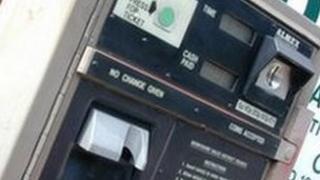 Controversial weekend parking charges in the West End have been postponed until after Christmas.
The new charges would operate until midnight Monday to Saturday, and 13:00 to 18:00 on Sundays and were due to kick in on 1 December.
Westminster Council said they would now take effect from 9 January and billed the move as an act of Christmas warmth.
But campaigner Paul Pearson said they simply "have not got their act together" in time to begin in December.
The cost of parking ranges from £2.20 to £4.40 for an hour.
There have been numerous protests by church groups and businesses since the council announced the plan.
In addition to delaying the scheme, the Conservative-run council said it would issue warning letters instead of tickets if drivers fall foul of the new rules in the first two weeks.
Councillor Lee Rowley, cabinet member for parking and transport, said: "It is just common sense for us.
"We took the decision to delay implementation until January following advice from business and other groups.
"They told us that infrequent Christmas visitors may find changes introduced in December very confusing."
But Paul Pearson, who has campaigned against the new charges, said: "This latest statement is absolute rubbish in my opinion.
"It is less about seasonal cheer - and more about the fact they have not got their act together on time."
Councillor Paul Dimoldenberg, leader of Labour in Westminster Council, said: "I welcome this U-turn - which anyone with any common sense would have done months ago.
"The council should now continue with what it's started and scrap the proposal entirely to protect the West End economy and jobs."