London West End pedicabs need licences, peers say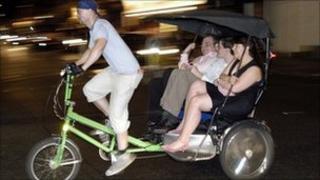 Several peers have called for pedal-powered tricycles, known as pedicabs, to be licensed in London.
Conservative Baroness Gardner of Parkes said they posed "quite a danger" and could "cut right across traffic", while Labour's Lord Kennedy of Southwark said they could be "a nuisance".
The vehicles, which can carry up to three passengers, were debated in the Lords in a debate on the Localism Bill.
They "needed to be dealt with", added Tory Lord Jenkin of Roding.
However, ministers think the issue should be handled locally, rather than nationally.
Labour's Lord Berkeley, who used to be a transport spokesman for his party, said that as a cyclist he found the pedicabs "irritating".
But he said they were "here to stay" and "good fun".
Lord Kennedy, the son of a London taxi driver, said licensing could help to ensure owners had insurance and kept their vehicles in good condition.
Transport spokesman Earl Attlee told peers that pedicabs in London were the responsibility of City Hall and Transport for London.
Westminster Council, which oversees much of the West End, is already devising a voluntary registration scheme, which would also include a code of practice.
Lady Gardner said pedicabs were not liked by taxi drivers and created hazards which could be reduced with appropriate regulation.
After the debate she withdrew her amendment to the Bill which called for licensing, but said action was still needed to prevent anyone being seriously injured.