London riots: Looter in wheelchair jailed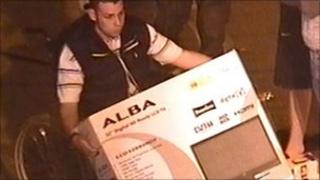 A looter in a wheelchair who made off with a television from a ransacked shop has been jailed for a year.
David Christopher Knott, 18, from Eltham, south-east London, had a broken leg when rioting swept the capital in August.
CCTV captured Knott waiting by Argos in Powis Street, Woolwich, in his wheelchair. A man placed a TV on his lap before wheeling him away.
Knott pleaded guilty to handling stolen goods at Inner London Crown Court.
He was also convicted of assault with intent to commit robbery and a separate offence of taking a vehicle without consent, for which he received a two month concurrent sentence.
Commander Richard Wood of the Metropolitan Police said: "Officers from Operation Withern [which targets rioters] continue to arrest suspects nearly every day.
"We have plenty of CCTV footage which is being closely analysed by a team of experienced officers.
"Our officers are on the streets of the borough looking for those being circulated as wanted."
He added: "We will not rest until we have arrested them."