Revamp for 'oldest' Tube carriage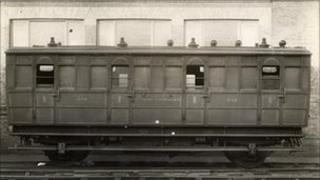 A £422,000 grant has been given to restore an underground carriage, thought to be the world's oldest, to mark 150 years of London Underground.
Metropolitan Railway Carriage Number 353 was built in 1892 and ran on what is now known as the Circle Line.
The Heritage Lottery Fund money has been given to the London Transport Museum to restore the carriage to full working order.
It will then become a key feature of the anniversary celebrations in 2013.
The restoration work will take about a year to complete and will incorporate early Metropolitan Railway design and construction.
Following the anniversary, the carriage will tour around heritage railways in London and the South East for 10 years.
The carriage was withdrawn from service in 1905 when the Metropolitan Railway was electrified.
It was then acquired by London Transport in 1974.
'International significance'
The work will be carried out by the Ffestiniog Railway, which is a specialist in heritage railway carriage restorations.
Sue Bowers, head of the Heritage Lottery Fund for London, said: "It is the London Underground system that helped transform the capital from a small city in the early Victorian period to the massive conurbation that it is today.
"As such, this carriage is not only of national importance, but international significance, as our underground system was the first in the world."
The Heritage Lottery Fund will also help to fund an apprentice to gain an NVQ Level 2 in carpentry as part of the project.
A further 159 people will be offered the opportunity to work towards a heritage and transport qualification through the restoration.