Rare seahorse found in the River Thames, London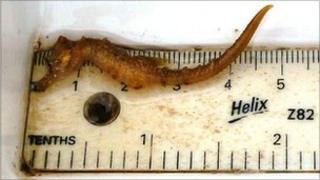 A rare seahorse has been found in the River Thames deep into London for the first time - suggesting a colony may be present.
The short-snouted seahorse - which can grow up to 6in (15cm) long - was discovered in the river at Greenwich.
Although they are found on the south coast this is the furthest upriver the species has been discovered.
The fact this seahorse was a juvenile, just 5cm long, suggests a breeding colony may be in the river.
Emma Barton, a fisheries officer at the Environment Agency, said: "This is a really good sign that seahorse populations are not only increasing, but spreading to locations where they haven't been seen before.
"We routinely survey the Thames at this time of year and this is a really exciting discovery."
The seahorse was alive when it was captured. An Environment Agency spokeswoman said it was released unharmed.