London 2012 Olympic Park housing plan revealed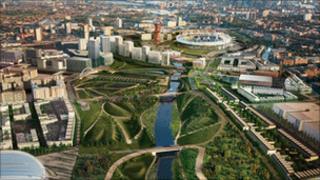 Plans showing how the Olympic Park in east London could be transformed after the 2012 Games have been submitted.
The Olympic Park Legacy Company (OPLC) set out its vision for the site in Stratford in a 5,000-page document.
It shows how some of the neighbourhoods that will make up the Queen Elizabeth Olympic Park development may look.
The OLPC plans to build up to 11,000 new homes on the site, which it claims will generate up to 10,000 jobs, with work scheduled to begin in 2013.
OPLC chief executive Andrew Altman said the application was "a significant moment" in making the Queen Elizabeth Olympic Park a reality.
"As one of the most important housing developments in London's history, these five neighbourhoods will stitch together the surrounding communities of a formerly isolated area through new homes, schools, shops, parks, infrastructure and jobs," he said.
New landmarks
The site will have a mixture of town houses, mews houses, affordable flats and riverside properties.
Three new schools and nurseries will be built for the families living in the park, along with health centres, community and faith spaces.
Families are expected to start moving into the first new homes in the neighbourhoods - Chobham Manor, East Wick, Sweetwater, Marshgate Wharf and Pudding Mill Lane - in 2015.
Plazas, canal paths, roof gardens and cycle paths are planned as part of the neighbourhoods which will sit alongside new landmarks such as the Olympic Stadium, Aquatics Centre and the ArcelorMittal Orbit.
The submission to the Olympic Delivery Authority's Planning Decisions Team triggers a 28-day consultation.
The OPLC, which consulted more than 12,000 people on the plans, hopes to get them approved before the Games begin in July next year.