London Tube 5% pay offer 'best in public sector'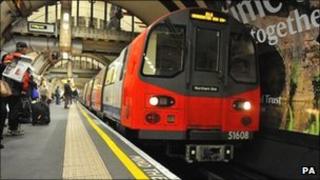 The Rail, Maritime and Transport (RMT) union has begun discussions on a four-year pay deal for Tube workers which will see salaries rise by 5%.
London Underground (LU) has offered a 5% pay rise in the first year, followed by rises in line with inflation plus 0.5% for the next three years.
The RMT's general secretary Bob Crow said its members might not find a better offer in the public sector.
LU said it hoped the deal would lead to a stable service during the Olympics.
The union said the wage deal could see staff salaries go up by about to 20% by 2015.
The salary hike will push the salaries of many workers, including technical staff and Tube drivers over £50,000, the RMT said.
The current average salary of a driver is £46,000 a year.
'Fair' deal
Mr Crow said: "In these days of austerity we have shown that fighting trade unionism is the best defence from attacks on jobs and living standards.
"I doubt you will find a better offer than this anywhere else in the public sector."
Mike Brown, LU's managing director, said: "This fair and affordable multi-year pay deal is a good deal for London - providing a platform for stability over a crucial time for the Tube network.
"We can now get on with the vital task of delivering the huge improvements to the network that Londoners need and deserve while we continue to develop our detailed plans to keep London moving during next summer's Games."
This pay offer is separate from the £500 bonus staff will receive for working during the 2012 Olympics and Paralympics, in addition to increased overtime payments.
This could mean a Tube driver could take home an extra £1,800 on average during that period, unions estimate.