London 2012 Olympics: Some journey times 'may double'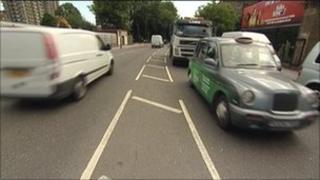 Journey times on some of London's roads could more than double during the Olympics next year, Transport for London (TfL) has admitted.
The information was in a brief sent to businesses about the Games.
Commuters have been warned of huge delays as an extra 5.3 million visitors are expected in London for the event.
Transport Minister Theresa Villiers said she was confident about the preparations being carried out by TfL to cope with the extra demands.
In an interview with the BBC's Politics Show on Sunday she said: "TfL are focused on keeping London moving during what is going to be the largest event ever hosted in this country.
"It will mean some transport disruption and there will be pressure on the transport system but we will adapt to minimise disruption."
She said businesses were actively engaging with TfL but admitted there was more to do.
A TfL spokesman said: "We have been clear that at certain times and places the transport network will be much busier than usual, which is why we are already working with businesses to ensure they can keep on running and make the most of the great financial opportunities offered by the Games.
"While the transport network will be very busy, we are confident that we will keep London moving while delivering a hugely successful Games."
Commuters have already been warned there could be huge delays to get into large stations such as London Bridge because of the extra pressure on the transport network.
In April a London Assembly report claimed transport problems remained "one of the biggest risks" to the 2012 Olympics.
And in July TfL admitted the "Games Lanes" - dedicated lanes for Olympic athletes and VIPs - would put greater traffic demands on certain parts of the network during the Olympics.