London shooting: 'Postcode' wars blight Mozart Estate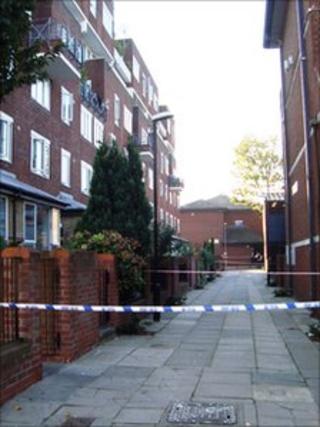 Bathed in blazing sunshine, the tree-lined streets full of cottage-style terraced houses do not appear to be a hotbed of inter-gang rivalry.
But the atmosphere in the streets south of Queen's Park station in north-west London - where three young women, one of them cradling her baby son, were shot on Thursday - changes radically by night.
I know the area well, having spent four years living about five minutes from John Fearon Walk, the alley which was still sealed off the day after the attack.
But the ever-growing huddles of threatening-looking teenagers and the booming music from car speakers eventually became too much for me - and people who still live nearby say this scares them too.
"Me and my kids can't go in this area after seven o'clock at night," said a mother-of-two who did not want to give her name to protect her family.
"I've lived here for 14 years. It used to be a very good area, but now maybe there's a new generation," she adds.
'Crack City'
The woman says large numbers of young people gather every evening outside the corner shop opposite the crime scene.
And this is echoed by Yvonne, who points towards the Mozart Estate, the five-storey red-brick block where the teenagers - aged 17, 18, 19 - were shot as they talked to several boys in a back garden.
"Groups are there continuously, every single night," she says.
"Sometimes it can be two or three in the morning, and they're fighting or chasing each other."
The estate, which is nearly 40 years old, used to be nicknamed "Crack City" but part of it was later demolished, she says.
"They thought by knocking it down and tarting it up, it was going to get better. But it hasn't."
Fabian Sharp from the Queen's Park Neighbourhood Forum recalls the murder of Daniel Omari Smith, a 22-year-old electrician shot on Harrow Road in May 2010.
Last month a man was charged with murdering him.
"I think it was a wake-up call that things were not right, and since then they've certainly not been getting better."
The estate is "actually a very nice place, but it has high levels of social need and social housing", he says.
Geography is one explanation for the violence, as the estate is in the borough of Westminster, but nearby are Brent, and Kensington and Chelsea.
Teenagers "find themselves caught in a vice between gangs from Ladbroke Grove and South Kilburn, both of which have decided that Mozart is an area that is probably weak and is to be targeted", says Mr Sharp.
'Long-term problem'
And Karen Buck, Labour's MP for Westminster North, says "there is a worry" about how police "co-ordinate a response across borough boundaries".
The area has a "long-term problem of some inter-gang rivalries here that I think now need to be escalated in terms of the police and council response", she says.
Jack, who is walking his dog and describes himself as "a boy around town years ago", says the problems began "after the Stonebridge Estate was knocked down and families moved to new housing at South Kilburn".
"You've got naughty people that moved down from Stonebridge - their kids are now the leaders down here. They all carry weapons," he says.
Jack says he is worried about the impact of high-profile attacks on the area, saying "professional people" are now investing in homes locally.
"If this carries on, you're going to get people moving out," he says. "They're going to look for a property somewhere else which is a little bit safer."
Mr Sharp says there are "new ways of working being piloted by the children's service and by the health outreach workers, to intensify the amount of support they're able to give to families living on the Mozart Estate".
"But the backdrop to this is cuts," he says.
Jean, who is 49 and has lived nearby all her life, agrees "there's nothing for the kids with all the cutbacks".
"They've taken all the youth clubs and there's nothing here," she says. When we were growing up, there were things for us to do - adventure playgrounds and people taking us out for the day.
"Now you've got the Kilburn lot, the Mozart lot, the Ladbroke Grove lot, and they're all just coming and shooting guns, beating up the children, getting stabbed. It's shocking."