London shooting: Victim 'was holding her baby son'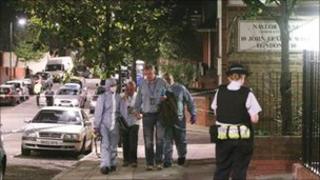 A teenager holding her 11-month-old son was injured when she came under fire from a shotgun as she chatted to two friends in west London.
Jessica Chrichlow, 18, was taken to hospital with the two others, aged 17 and 19, after the attack in John Fearon Walk, near Queen's Park, on Thursday.
Det Ch Insp Mick Foote said the baby was unhurt but the teenagers were struck by shotgun pellets.
The gunman joined three other men and all four fled on bicycles, he said.
No arrests have been made over the shooting.
London Ambulance Service said the 18-year-old woman, who was hit in the chin and neck, was taken to hospital as a priority while the two others made their own way there.
The injuries to the three victims are not life-threatening, police said. The 17-year-old has been discharged from hospital but the other two victims remain in the central London hospital.
Mr Foote said the victims were in a back garden talking to a group of boys when the gunman opened fire.
He said: "It appears a man on his own has gone towards the crowd and let off one single shot from a shotgun.
"He ran away from the scene and he joined three other guys who were on pedal cycles, one of them holding a holdall."
He added: "It was a random, reckless act and we are fortunate we are not dealing with a fatal shooting here."
Mr Foote said officers were working on the basis the shooting was gang-related.
"I do not believe the girls were the intended targets. What's particularly devastating is the young girl was carrying a young child," he said.
"This was totally unprovoked."
The suspects were dressed in dark clothing and had their hoodies tightly wrapped around their faces.
'Sweet girls'
Officers are appealing for witnesses who may have seen the suspects and particularly want to speak to the group of boys who were speaking to the victims at the time of the shooting.
The boys ran away just as the gunman approached and was about to open fire, police said.
Nearby resident Jenny Kantinda, 30, who said she knew the victims, said: "They were just sweet girls.
"We have had enough. The gang trouble has got worse, it's time police did something to help us.
"There are young children living here - are they safe? I don't think so."