Tottenham stadium: Club offered White Hart Lane deal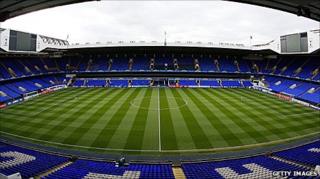 Tottenham Hotspur Football Club has been offered a deal which could save it £17m, if it stays in north London.
The Greater London Authority (GLA) and Haringey Council have offered to relieve the club of all community infrastructure payments that planners would normally require.
The GLA's £8.5m contribution would fund regeneration in the Tottenham area, rather than the stadium itself.
There is consent for a new stadium on the current White Hart Lane site.
GLA funding for regeneration works associated with the project would come from a £50m regeneration fund to improve areas of London affected by the riots.
Haringey Council, meanwhile, has agreed to scale down a list of community projects it wanted Tottenham to contribute to, saving the club a further £8.5m.
'Final offer'
Representatives of the GLA and Haringey Council have urged the club to press ahead with its plans for the venue at Northumberland Park.
The package laid out includes improvements to transport links to and from the area at Tottenham Hale and White Hart Lane stations.
Mayor of London Boris Johnson said: "The club knows there is no more money available from the public purse and I sincerely hope that they accept the offer we have made."
Tottenham wants to become the long-term tenant of the Olympic Stadium after next year's Games.
The club mounted a legal challenge against West Ham's winning bid.
'Critically important'
It has won the right to a judicial review which is due to be heard on 17 October.
In 2008, the Northumberland Development Project was launched by Spurs to turn White Hart Lane into a 60,000-seat stadium.
However, soaring costs meant the plan, which involved building a new stadium on the current site, was shelved.
Haringey Council leader Claire Kober said: "It is critically important that Spurs commit to Tottenham to help drive forward regeneration in this very deprived area."
Spurs chairman Daniel Levy confirmed that talks had taken place but said it would be "wholly irresponsible" to announce whether it was proceeding without the necessary agreements.
He added: "The overall scheme requires a complex package of financing of which the correct level and nature of public support is critical."
The club said it has already spent £60m on assembling land and £25m on planning, with the Northumberland scheme likely to cost hundreds of millions of pounds once complete.