Ken Livingstone's rail fare cut 'impossible' to deliver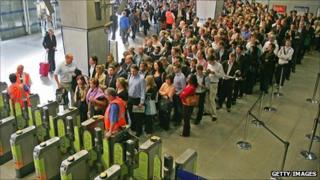 The 5% fare cut proposed by Ken Livingstone isn't as straightforward as it at first looks.
There are other sticking points apart from the Conservatives' assertion that the money is already assigned to upgrade projects.
The bottom line is the mayor does not control rail fares, even though we do have a joined-up transport system between rail and Transport for London (TfL) services.
But from within the rail industry I'm being told the cut would be extremely "problematic" - in particular with trains and Travelcards.
At the moment, when it comes to London Travelcards the rail companies and TfL agree together on how much they will go up. They recently agreed to put them up next year by 8%.
Travelcards are a regulated fare and so train operating companies (TOCs) are bound by the government's formula: inflation (RPI) + 3%. That is higher than TfL's/Boris Johnson's current fare formula of RPI +2%.
So, what would happen if in October 2012 after being elected Ken Livingstone tried to drop fares including Travelcards by 5% as promised?
It's extremely unlikely TOCs would agree to a 5% cut in fares, including Travelcards, and reduce their revenues.
They pay an agreed amount to the Department for Transport for the franchise and there is no way the government would allow them to pay less.
Also, even if they had a 5% cut on fares on Travelcards on London routes they would have to put up a similar number of fares by 5%.
This is again part of the franchise and called "flex".
Given that London has the most rail passengers in the country I'm told this balancing act would be "virtually impossible".
Political row
If TfL and TOCs don't agree on the fares, then what?
The default position when there is no agreement on Travelcards is the price goes up by inflation RPI+0%.
I'm told it's unlikely rail companies would cut rail Oyster fares and also the combination fares which apply when you take a train and then a bus or Tube.
So, if Ken Livingstone is elected and he cuts fares by 5%, Oyster rail fares and Travelcards won't be cut.
For the TOCs, the Department of Transport matters more than the Mayor.
Of course this would also open up one hell of a political row between central government and the Mayor. Sound familiar?