2012 Olympic short term landlords 'could face fines'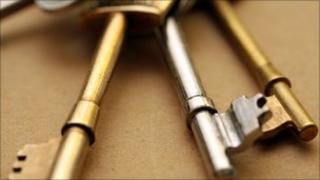 Londoners hoping to rent out their homes during the Olympics are being warned they could be breaking the law and left facing a fine.
BBC London has uncovered stark variations in councils' positions on the practice.
Some have warned they will crack down on people renting out properties - but others have said it is not a problem.
The National Association of Estate Agents is calling for a review of the law on short term lettings.
But at the moment Londoners face a postcode lottery as to whether they can rent out their homes for the games.
Juzar Jeevanjee is one landlord who plans to cash in by renting out his property during the Olympics.
'Happy times'
He said: "Obviously there's a huge opportunity for earning extra money here with lots coming in for the Olympics who can't afford hotels.
"From what agents have told me, I could double or triple what I could get at the moment, so it could be happy times."
But Juliet Rowe, who lives in Westminster, would be in a very different situation if she wanted to rent out her apartment for a short period.
Westminster effectively bans short term lets of 90 days or under unless planning permission is obtained - but this is rarely given.
If she were to rent out her home anyway during the games, she could face a fine of £20,000 and even a criminal record.
Ms Rowe does not plan to do this - but said it was enormously disappointing.
She said: "It seems everything you try to do in this city you get told off.
"It's so expensive to live here - and it would be nice to make some extra cash.
"It's beyond frustrating."
Westminster Council told BBC London it was important to preserve the rental market for longer term residents.
'No level playing field'
It said numerous complaints had been received by residents complaining about noise and disruption in mansion blocks caused by short-term residents.
Rosemarie MacQueen, Westminster Council's head of city planning development and design, said: "In Westminster, we have a population of 250,000 and that has to grow with targets from the mayor and ourselves. "If we have short term lets, we'll never increase our long term residential population.
"Secondly, residents who live in blocks of flats with short term lets actually feel their quality of life has gone down."
She continued: "There's a fear of crime, they don't know the faces of the people who are coming in and a lot of short term residents don't treat the place like home.
"They leave litter in the corridors, come and go and have parties."
BBC London asked every council in the capital for details of what its policies were concerning short term lets.
Some 27 London boroughs said they had no problem with properties being let for short periods and this did not require any planning permission.
But Southwark, Tower Hamlets, Islington, Kensington and Chelsea, Westminster and Camden warned people who let properties for short periods without planning permission could be served with enforcement notices.
In some cases they could receive fines of up to £20,000 if they were deemed to be repeat offenders.
Chief executive of the National Association of Estate Agents, Peter Bolton King, said: "The problem here is a lack of a level playing field which means regulations are not being policed in the same way across London.
"I think it's time for a review and to look at whether this is working or not."