Neasden fire deaths: Chest freezer 'most likely cause'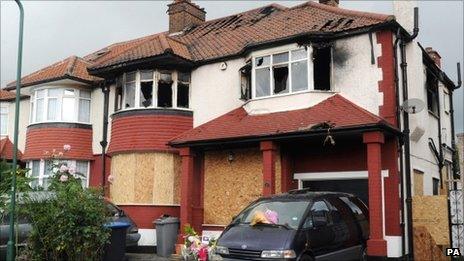 A chest freezer may have caused a fire in a north-west London home in which a mother and her five children were killed, London Fire Brigade (LFB) said.
Muna Elmufatish, 41, and the children, aged from two to 14, died when a blaze ripped through their home in Sonia Gardens, Neasden, early on Saturday.
LFB said the freezer, the make of which is yet unknown, was kept in the hallway at the bottom of the stairs.
Post-mortem tests found all six had died from inhaling fumes.
Sisters Hanin Kua, 14, Basma, 13, Amal, nine, and brothers Mustafa, five, and two-year-old Yehya were killed in the fire.
The only survivors were Bassam Kua, 51, their father, and eldest sister 16-year-old Nur.
Mr Kua is in a stable condition while Nur is said to be in a critical but stable condition.
Earlier, a coroner's officer broke down in tears as she read out the details of the victims as the inquest into the deaths opened.
As Rebecca Smith, Barnet Coroner's Court officer, read the date of birth and home address of two-year-old Yehya for Coroner Andrew Walker, her voice broke but she continued.
The officer said it had been "tough" going through the details of the young victims.
The inquest was adjourned until 16 February.
LFB has launched a fire safety campaign following the weekend's fatal fire which it said was "the worst house fire in the capital in over a decade".
Assistant Commissioner for the LFB, Steve Turek, said: "Fire investigators will continue to piece together the tragic events of Saturday morning but early indications are that the fire was caused by a chest freezer in the hallway of the house.
"This tragic event should focus people's minds on how they can make their home safer."
The campaign will urge people to check electrical appliances and sockets at home, install and check smoke alarms, plan an escape route in the event of a fire and not attempt to tackle the fire.
Fire officers said they were still investigating the incident, but added a Beko fridge - a type that recently hit the headlines for posing a fire risk - found at the home was not a part of the inquiry.
In July, the LFB warned that up to 500,000 fridge freezers could pose a fire risk after the brigade found that a fire at a tower block in Bermondsey, south-east London, had been caused by a faulty Beko fridge.
About 900 school pupils remembered teenage sisters Hanin and Basma at a special assembly at their school, Crest Girls' Academy, on Monday.
About 30 firefighters fought the flames for two hours in the early hours of Saturday. Police are not treating it as suspicious.
Related Internet Links
The BBC is not responsible for the content of external sites.