Alex McIver in fundraising bike ride at Clapham Common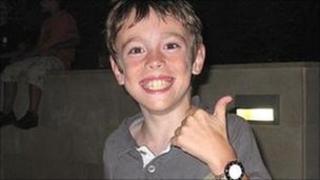 A 12-year-old boy from south-west London has launched a fundraising drive to pay for surgery in the US to ease the symptoms of his cerebral palsy.
Alex McIver, from Clapham, needs £33,500 for an operation to prevent his legs from crossing over when he walks.
He has organised a sponsored bike ride around the 2.6-mile (4.2km) perimeter of Clapham Common on Saturday.
His mother Jane said Alex could only cycle "at a slow walking pace" and so would find it "pretty hard-going".
She said she would be walking alongside him on the common.
"A lot of friends of his are also joining in, and are going to be coming up to the common to walk or run with him," she told BBC London.
Alex also admitted: "It's going to be quite hard, I think."
Charity night
He has to move slowly while relying on a walking device, and wears a brace on his leg and splints on his ankles.
Alex developed his illness when he was born three months prematurely.
On his website, he explained surgeons thought he would be able "to get everywhere using just crutches after the operation, and may be able to get around independently in some environments".
The procedure is known as selective dorsal rhizotomy and would be carried out in the city of St Louis.
As well as the bike ride, which is due to start at 14:00 BST at the bandstand on the common, several other fundraising events have been organised.
These include a cake sale at the school attended by his brother and sister and a charity night at a local restaurant.
Alex has raised more than £7,000 so far.