Stuart Mungall, Yorkie ad star who killed wife, is freed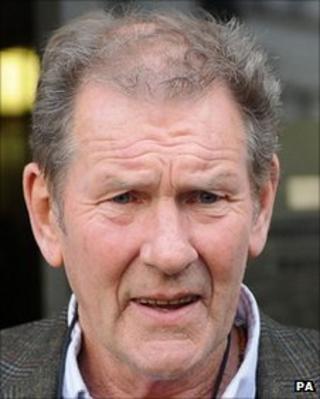 A man who appeared in the original Yorkie chocolate bar adverts has walked free from court after he admitted killing his terminally-ill wife.
Stuart Mungall, 71, denied murdering wife Joan, 69, at their home in Tooting, south London, last December.
The prosecution accepted a guilty plea to manslaughter on the grounds of diminished responsibility.
He was given a 12-month sentence suspended for two years after the court heard he has suffered from depression.
Mungall was also placed under supervision for two years and Recorder of London Judge Peter Beaumont ordered regular reports so that any recurrence of his illness could be "nipped in the bud".
'Mercy killing'
Judge Beaumont told Mungall he had led a "trustworthy and distinguished" life.
He had been devoted to his wife and cared for her while she suffered from a degenerative brain disease, which left her bed-bound and in pain.
The judge said: "You were not only her sole carer but you were were caring for her most basic need with unstinting devotion."
But he said Mungall's plea did not extinguish his responsibility and "you will have to shoulder that responsibility for the rest of your life".
"You cannot take the life of another with impunity," the judge added.
At hearing at the Old Bailey in July, Mark Dennis QC, prosecuting said there had been no evidence his wife had wanted to end her life prematurely, "or that she encouraged him to act in the way he did".
The court heard that after smothering his wife with a pillow, in what he said was a "mercy killing", Mungall took tablets to end his own life.
Outside court, Mungall's solicitor, Laurence Imrie, said: "He is relieved that this matter has finally been concluded and he respects the court's findings.
Devoted couple
"Joan is at peace now and without pain. The family now request that their privacy be respected whilst they continue to grieve."
Mrs Mungall had been a Royal Shakespeare Company player and the couple had been married for 43 years.
They ran a gardening centre in south London together but had to sell the business when Mrs Mungall's health deteriorated.
Miranda Moore QC, defending, said: "They were totally devoted to each other. They were each other's lives.
"At the time of her death, she had weeks to live. She was keen to stay in her own home with her husband."
Mungall found fame in the 1970s as the lorry driver in the adverts for the chocolate bar and went on to appear in Casualty, The Bill and other television series.