London could get its own internet domain name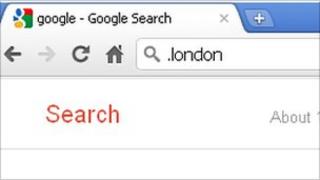 London could get its own internet domain name.
London & Partners, the official promotional agency for the capital, has said it is interested in applying for a 10-year license for the .london suffix.
It follows a decision by the Internet Corporation for Assigned Names and Numbers (Icann) to increase the number of domain endings from the current 22.
If successful, the city could have the domain name inside three years.
London & Partners are considering applying for what is described as a generic top-level domain (gTLD).
Several hundred new gTLDs are expected to be created by Icann in the new process.
London & Partners is currently consulting with organisations, including the boroughs, commercial orgnisations and community groups to determine the benefits of having a London internet domain name.
Gordon Innes, from London & Partners, said: "London has always been seen as a city that leads on digital innovation and our interest in applying for dot London demonstrates our commitment to maintaining this position.
"We believe that owning the dot London gTLD will not only generate increased opportunities for the promotion of the capital, but will achieve benefits for businesses and organisations across the capital."
Kulveer Ranger, digital adviser to the mayor of London, said: "Ownership of the dot London domain could offer a tremendous opportunity to reinforce London's position as a global centre for digital innovation, generate revenue and bring about new employment opportunities."
Icann has said it will cost £114,000 to apply for domain suffixes, and applicants would need to show they have a legitimate claim to the name they are buying.
Other cities who have expressed their interest in applying for their relevant city gTLDs include New York, Paris, Sydney, Rome and Berlin.
Icann will receive all applications between 12 January and 12 April 2012, and this will be followed by a review process taking anything from 9 to 20 months.