'No stone unturned' in hunt for Thames torso boy killers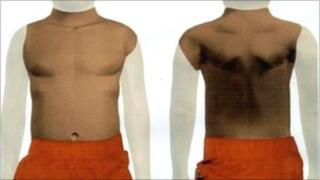 Ten years ago on 21 September a young boy's torso was found floating in the River Thames near Tower Bridge by a member of the public.
Forensic tests revealed that 'Adam', as he was named by police, was a five or six-year-old boy from Nigeria who had been poisoned 48 hours before his death and was paralysed but conscious when he was killed.
Officers believe his death was a ritualistic killing and he had been poisoned with an extract from the carabar bean.
A woman was arrested in connection with his death in July 2002, but she was deported to Nigeria months later.
A decade on, Adam's killers are still to be found.
The officer who has led the investigation for the last four years, Det Ch Insp John Dunn, said it was the "only unsolved murder of a child in the history of the Met Police".
"We will never give up. I can promise you that the investigation will carry on for as long as it has to," he vowed.
The officers investigating Adam's death have made half a dozen trips to Nigeria and another one is planned soon but he has never been formally identified.
"Our role is to look at every single strand of this investigation," said Det Ch Insp Dunn.
"As the years have gone by we have narrowed the focus of the investigation, but I am afraid I am still waiting for the nugget that actually helps me to identify the people who were involved in the actual killing of this boy.
"We have managed to establish beyond almost any doubt that he was trafficked into the country, probably from mainland Europe, having come up from Africa.
"We have got approximate time scales and we have got a group of people who we very strongly believe were involved in that trafficking."
The police have employed various initiatives to help solve the case.
In December 2001 a £50,000 reward was offered for any information leading to the successful conviction of those responsible, and in April 2002 Nelson Mandela made a global appeal for information about the murder.
Ten years on Det Ch Insp Dunn said they would continue to do all they could to bring Adam's killers to justice.
"This is a case which is hugely important for the people of London and the people of Nigeria that we successfully conclude this investigation.
"We must not have any further cases of people being brought into the country for criminal slaughter."
"If you do bring trafficked people and those people come to harm, then we will leave no stone unturned in seeking you out," he warned.