London 2012: Injured marines to crew Olympic boats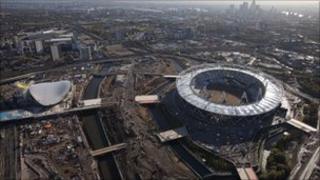 Royal Marines injured in Afghanistan are to crew boats that will ferry visitors to and from the Olympic Park in east London next year.
The servicemen will take command of 26 waterbuses during the 2012 Games and be offered businesses opportunities using the boats once the event is over.
They will shuttle between Limehouse, near Tower Bridge, and Tottenham Hale, north London, and the Olympic Park.
Peter Coleman, who bought the boats, hopes to employ 100 former marines.
His firm won the contract to operate the route during the Olympics.
The hop-on-hop-off service will navigate the complex channels of the Bow Back rivers which meander around the Stratford area of east London.
Journeys to the site will take 30 minutes from Limehouse Basin and 50 minutes from Tottenham Hale.
The first of the fleet of 90-seater purpose-built boats is on the water and was due to be taken out for a trial run by five marines on Monday.
Mr Coleman, whose son has served in Iraq, said he decided to embark on the project as "people did not have enough respect for what these guys have done".
"These are commanding officers so are perfect for the job," he said.
Once the Games are over the marines will be offered the chance to set up business enterprises using the boats.
The waterways, which have been dredged, have been used to transport building materials to the Olympic Park.
The Olympic Delivery Authority has also built a lock specifically to improve river travel to the site.
It is hoped the regeneration of the route will attract tourists, visitors and local people to travel by boat.