Twenty six-tonne boat pulled down Regent's Canal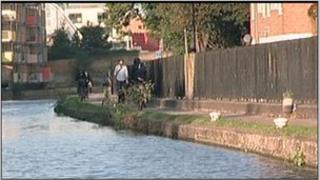 A group of volunteers has tugged a 26-tonne canal boat from Bow to Islington in London to raise funds for charity.
Sixteen people tugged the vessel for three miles down the Regent's Canal as part of the Victims Support Great Narrowboat Challenge.
The volunteers, who all work for a gym company, took about two hours to complete the challenge.
Victim Support helps around 15,000 victims of crime each year.
The volunteers, who work at centres in Bow Wharf, Holborn, Leyton and Liverpool Street, hope to raise a minimum of £1,000.
Nikki Hughes, general manager of Fitness First in Bow Wharf - who took part in the pull - said: "It was great, but we are quite tired now. You don't realise how much energy you are going to use up."
Patrick Green, Victim Support's London Deputy Locality Director, thanked the volunteers for their efforts.