June Caravel celebrates London street names in song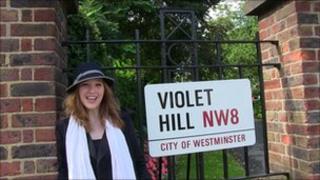 A string of London street names have been celebrated in a song by a French singer hoping to raise the city's spirits after the recent riots.
June Caravel has released a video to London Song, which sees her match words in her song with over 50 street names across the capital.
Visit London has chosen it as its video of the week.
Caravel has now challenged Londoners to send pictures of themselves in front of the street signs for a new video.
'Wonderful people'
The song saw Caravel criss-cross London so she could film herself singing the words that corresponded with the street names.
"I was inspired to write the song back in 2010 when I was cycling around Hammersmith," she said. "I stopped at the corner of Down Place and Bridge Avenue. The chorus popped into my head. So I recorded it on my dictaphone. It was at that moment that the idea of writing a song made up of London street names was born."
She recorded the song in June and will include it on an EP which will be released in January.
She is now trying to get Londoners to send their own footage singing in front of the street signs for a second video which will be used for a another edit of the song. A map of the street signs used is available on Caravel's website, and pictures reseived before 15 October will be used in the next video.
"After the recent riots, I really wanted to show another image of London and of Londoners who are truly wonderful people and passionate about their city to give them something to smile about," she said.
The video can be seen on June Caravel's website.