Richmond Council offers refund to parking fine drivers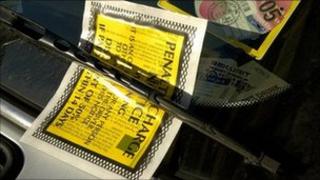 Richmond Council is writing to every vehicle owner wrongly issued with a penalty charge notice inviting them to apply for a refund.
The council said more than 18,500 penalties given between April 2009 and April 2011 by CCTV cars could not be imposed following a court ruling.
It has agreed to repay more than £1m in wrongly issued penalty charge notices.
Council Leader Lord True admitted tickets were issued "when the authority should have known better".
The council said it had taken the decision despite not being legally compelled to do so.
The tickets were issued by council-operated CCTV patrol cars which did not have the correct licence.
A ruling that the charges were unlawful was given by the independent Parking Tribunal Service after a motorist appealed against his penalty charge.
'British doggedness'
Speaking to the full council, Lord True said the council was putting its money where its mouth was.
He added: "For too long people have perceived local authorities as acting in a predatory and money grabbing manner when it comes to parking enforcement.
"I pay tribute to the motorist who pointed out the problem. His good old British doggedness has ultimately led the council to this decision."
Letters will be sent in the coming weeks to the registered owners of the vehicles which received fixed penalty notices.
No further proof will be required from the owners to claim their refund because the council has the records of everyone who was fined.
The cost of refunding the wrongly issued tickets will be covered by expected underspends in the council's budgets and from reserves, the authority said.