New Met Police commissioner wants 'war on crime'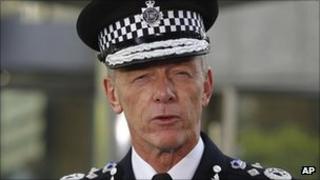 No legal tactic will be deemed "out of bounds" for police in London in future, Scotland Yard's new commissioner has told his officers and staff.
Bernard Hogan-Howe, who was appointed on Monday, said the Metropolitan (Met) Police would wage a "war on crime".
And if proposals were "legal, ethical and done in good faith", he said he was prepared to consider them under a strategy he called "total policing".
He aimed to cut crime, cut costs and "develop the culture" of the force.
This would improve "our diversity and the way we relate to each other", said Mr Hogan-Howe, who espoused "total policing" when he was chief constable of Merseyside.
Following the admission by Tim Godwin - who had been acting commissioner until this week - that the Met was caught unawares by last month's riots, Mr Hogan-Howe promised to encourage "innovation" in the battle to prevent crime.
'Tough challenges'
"Where new techniques or new technology can help us in that war, I want us to maximise our use of it.
"I want us to focus on crime prevention - taking the initiative back from the criminal, taking them on and putting them on the back foot."
The 53-year-old also pledged "the best possible support" for victims, and measures to prevent people from becoming victims in the first place.
There were "some tough challenges ahead" in fighting terrorism and preparing for a "safe and secure" Olympics next year, he admitted.
Mr Hogan-Howe beat three other contenders to take charge of more than 50,000 staff, including 32,000 officers.
He succeeds Sir Paul Stephenson, who quit in July following the phone-hacking scandal and claims about links between the Met and News International.